Route, GPS, Maps, Elevation Profile
The bicycle tour route: [Kolozsvár (Cluj) / Radio Cluj, Donath nr. 160 (Prestart)] – Gyalu (Gilău), byroad towards Fântânele and Hidegszamos (Someşu Rece) (START) – Lake Gilău – Hidegszamos (Someşu Rece) – Melegszamos (Someşu Cald) – Lake Someşul Cald – Lake Tarniţa – Tail of the lake (Coada Lacului) – Havasnagyfalu (Mărişel) road fork (CP 1) – Havasnagyfalu (Mărişel) – Fântânele hill (Dl. Fântânele) (CP 2) – La Grinzi road fork – Lake Beliş – Jósikafalva (Beliş) – Bánffytelep (Dealu Negru) – Kiskalota (Călăţele) – Nagykalota (Călata) – Kalotaszentkirály-Zentelke (Sâncraiu) (PC 3) – Bánffyhunyad (Huedin), Casa Tineretului (FINISH).
The entire course is set on paved roads.
The time limit set by the organizers is 8 hours (Vasvári 85) and 9 hours (Vasvári 100) respectively; all participants must arrive to Bánffyhunyad by 4.00 PM.
|   | Vasvári 100* | Vasvári 85* |
| --- | --- | --- |
| Distance | 92.3 km | 78.3 km |
| Total ascent | 1633 m | 1441 m |
| Total descent | 1424 m | 1282 m |
Tour evaluation: medium difficulty, it can be completed by anyone who cycles regularly.
*Although the length of the routes has been changed, we have kept the original names of the tour variations.
---
Map
The tour map can be downloaded from here: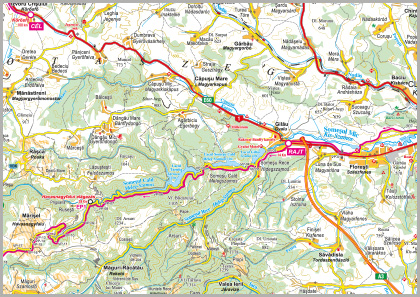 ---
Tour track
The actualized track can be downloaded in gpx format
from here
.
---
Outdoor Maps Romania app and map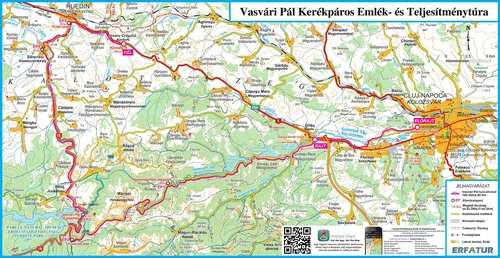 EKE – Kolozsvár 1891 and Outdoor Maps Romania offer the participants of the Pál Vasvári Memorial Endurance Bicycle Tour a free smartphone app, which, together with the detailed tour map, helps in the navigation. It does not require an internet connection or GSM network, using only GPS, you can be certain at any point of the tour that you are on the right track.

Download and install the Avenzamaps app (Google Play, AppStore) from here:
www.avenzamaps.com/maps/how-it-works.html

and then the map from the following link:
www.avenzamaps.com/maps/423781
If you have problems with the installation or need advice, please call +4 0745 532206.
---
Other recommended maps
Beside the maps and directions provided by the organizers, we recommend the following printed maps, containing detailed information on certain sections of the Vasvári endurance tour.